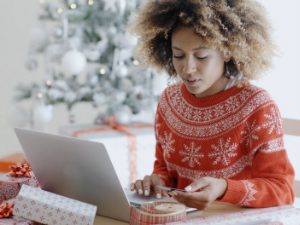 Now that Halloween and Bonfire Night are behind us, for many of us, it's time to pop our elf hat on and help Santa out with the Christmas shopping! With massive online savings promised over festive shopping events such as Black Friday (29th November) and Cyber Monday (2nd December), what better way to get the job done? Unfortunately, scammers and hackers feel the same! With many of us putting ourselves at risk during the race to snap up an online deal, it can make us an easy target.
Now, don't worry! We're not here to tell you to back away from your shopping basket and put the laptop down…it's Christmas! We are here with some top tips to help you to stay safe whilst bagging those bargains online this festive season.
KEEP AN EYE OUT FOR SUSPICIOUS MESSAGES LINKS IN EMAILS
Watch out for emails from companies or websites that you are unfamiliar with. A 'once in a lifetime offer' can make it tempting to click the link but remember if the offer looks too good to be true – sadly, it probably is! These types of emails could be a phishing scheme, in these cases, the link takes shoppers through to a fake website developed to steal data. Our advice is to avoid clicking the link in the attachment and instead use a search engine to check If the deal is valid.
CHECK THAT THE PAGE IS SECURE
Look out for the padlock icon in the URL (to the left of the web address) to check that the page you are visiting is secure. This icon indicates that the communication between the browser and the webserver is encrypted.
KEEP AN EYE ON YOUR BANK STATEMENT
During this busy time of year, it's important to regularly check your bank statement. Keep an eye on your bank account activity this festive season and if you spot anything suspicious (no, we don't mean the mass purchase of mince pies 😉) contact your bank straight away.
PASSWORD PROTECT
Secure your online accounts with strong passwords that difficult to guess, i.e no personal information or dates. Make the password at least 8 characters long and consider using passphrases (check out our '5 Tips To CyberSecurity' blog post for more security advice  ).
Another top tip is to never reuse your password. If a hacker were to get hold of that one password, they would have access to all of the accounts that you use the same password for. If you have multiple online accounts (which most of us do!) then a password manager can be a handy tool to keep everything in one place.
LOG OUT OF YOUR ACCOUNT WHEN DONE
Now we know how to log in with your super-secure password…. don't forget to logout! Simply closing with the window won't cut it, actively go to the logout section on the page and exit your account that way.
USE A SECURE NETWORK CONNECTION
In this case, there really is no place like home! Someone with the right know-how can hack the public wi-fi connection and expose your passwords and banking details. Keep the public connection for your festive window shopping and use a secure connection when making purchases.
By following these key tips you'll help to keep your information safe and secure online while enjoying your festive shopping!
For more security tips and updates, sign up to our newsletter and follow us on social media.